In vitro Cytotoxicity Assay with MTT Dye
In vitro Cytotoxicity Assay with MTT Dye
(mouse cell line L929)

The MTT test is based on the cleavage of the yellow tetrazolium salt MTT to form a violet formazan. A decrease in the number of living cells results in a decrease in the metabolic activity in the test culture. This decrease directly correlates with the amount of violet formazan formed, as monitored by the absorbance.
With the MTT test, cell proliferation as well as the viability of the cells after treatment with the test item is determined colorimetrically.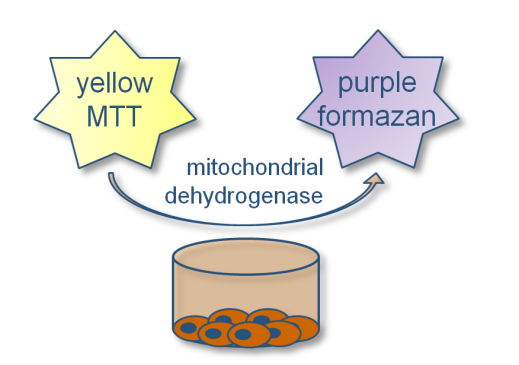 Assessment of Cell Viability by extraction method and MTT Dye
The test item is extracted under agitation for a defined period of time in DMEM supplemented with 10% FBS at 37 +/- 1°C and L929 cells are incubated with the extract.
Shortly before the end of the incubation period, the cells are evaluated microscopically and the MTT reagent is added. The cells are incubated for approximately 2 hours. Thereafter, solubilization solution (HCl) is added to each well and the absorbance is determined at 570 nm (reference wavelength 650 nm).
A viability of cultures treated with test extract of less than 70% compared to untreated control cultures (solvent control) is considered as a clear cytotoxic effect according to ISO 10993-5.
Protocol

Cell line

L929 cells (ATCC No. CCL1, NCTC clone 929 (connective tissue mouse), clone of strain L (DSMZ))

Analysis

The MTT test is based on the cleavage of the yellow tetrazolium salt MTT to form a violet formazan

Concentrations

4 concentrations of the test extract: 29.6%, 44.4%, 66.7% and 100%

Extraction time

4 - 72 h at 37 ± 1°C

- 4 h (short-term contact and intact skin or mucosa)
24 ± 2 h (short-term and limited contact to patient)
72 ± 2 h (prolonged and permanent contact)

Incubation time

24 - 72 h at 37 ± 1°C

Quality controls

Solvent Control: DMEM 10% FBS

Negative control: Polypropylene extracted in DMEM 10% FBS

Positive control: Latex extracted in DMEM 10% FBS

Data delivery

Cell viability is determined through the absorbance at 570 nm (reference wavelength 650 nm)

Positive prediction

A viability of cultures treated with test extract of less than 70% compared to untreated control cultures (solvent control) is considered as a clear cytotoxic effect
 
References
Scudiero, P. A.; Shoemaker, R. H.; Paull, K. D.; Monks, A.; Thierney, S.; Nofziger, T. H.; Currens, M. J.; Seniff, D.; Boyd, M. R.: 1988, "Evaluation of a soluble Tetrazolium/Formazan assay for cell growth and drug sensitivity in culture using human and other tumor cell lines". Cancer Res., 48, 4827 – 4833
ISO 10993-5: 2009, "Biological evaluation of medical devices – Part 5: Tests for in vitro cytotoxicity"
ISO 10993-12: 2012, "Biological evaluation of medical devices – Part 12: Sample preparation and reference materials"